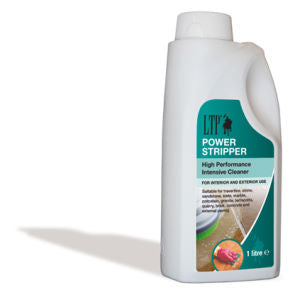 LTP Power Stripper 1 Ltr
LTP Power Stripper is an intensive cleaner for stripping and cleaning of travertine, stone, sandstone, slate, marble, granite, quarry, brick, concrete and external paving. Helps remove oxidised linseed oil and other mineral oils.

Suitable for interior and exterior use.

Re-seal will be necessary following use of this product.

Product should be tested in an inconspicuous area to establish tiles are colour fast and to determine optimal dilution.

Coverage depends on level of contamination.

Surface cleaning: 60m2
Deep Stripping: 30m2
In extreme cases: 15m2

Must follow manufacturers instructions for safe use of this product.