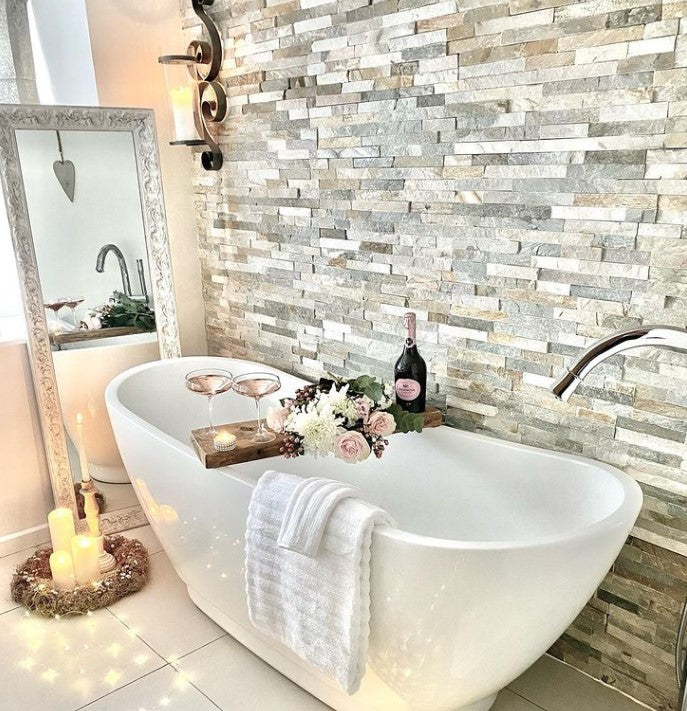 Split Face Tiles...
Introduce eye-catching texture and transform your walls with split face and split face effect tiles. Create a striking chimney breast, kitchen backsplash or statement wall indoors and liven up your garden with a unique and contemporary feature wall outdoors.
Natural split face tiles are comprised of linear strips of stone, cut to different lengths, widths and depths and staggered to create a 3-dimensional surface. These mosaic like tiles can then be fitted simply by interlocking them together. Natural stone split face tiles need to be sealed after installation with the appropriate product. This tile cannot be grouted and therefore should not be used in an area that may get wet.
Split face effect tiles are usually porcelain or ceramic and are a low-cost and low-maintenance alternative to natural split face tiles. These tiles re-create the charming and characterful appearance of a natural split face tile and are incredibly hardwearing. Perfect for use indoors and out. Porcelain and ceramic split face effect tiles can be used almost anywhere around the home and only need to be grouted to ensure they are watertight.
Top tips…
To achieve the best installation indoors or out we advise your surface is flat, cleaned and fully dry.
We do not recommend installing split face tiles onto a plastered surface, as this will have a maximum weight for tiling (26kg pm2) and these tiles are considered too heavy for fixing onto this substrate. The best surfaces for tiling directly onto with this range of tiles are cement render, brick or blockwork.
If you have the available space, we suggest laying out the tiles first to allow you to create the perfect placement. Once you're happy with the layout prime your surface, this will help create a strong bond with the adhesive.
If you need to cut your natural stone split face tiles, we recommend using a water fed cutter with a stone diamond tip blade.
For cutting your porcelain split face effect tiles, we recommend using a porcelain diamond tile blade.
After you've applied your natural stone split face tiles with the adhesive, leave to cure and finish with the appropriate sealer.
For porcelain or ceramic split face effect tiles, once the adhesive is cured the tiles will need to be grouted.
Please note that although we can provide general advice for all our products, it is the sole responsibility of the installer to ensure the correct method is used for each individual job. We would always recommend getting professional advice from an installer.
Feeling inspired? View and shop our beautiful range of natural stone split face tiles and porcelain split face effect tiles here and don't forget we offer free samples for all our tiles.
Please contact us if you have any questions, we would love to help you with your next project!